29 April 2022 - 22 May 2022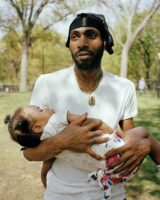 Image: Scott Rossi, Portrait of Humanity 2022 Winner. Courtesy the artist. © Scott Rossi.
When
29 April 2022 - 22 May 2022
Accessibility
Wheelchair access
In partnership with 1854—publishers of the British Journal of Photography—Portrait of Humanity is showing exclusively in Australia at PHOTO 2022 as the first stage of a world tour.
Celebrating both individuality and unity, Portrait of Humanity invites photographers of all levels of experience to show how people can use photography to overcome our differences and unite as a global community. For this edition, Portrait of Humanity has asked entrants to shine a light on the spirit, strength and togetherness that has sustained our species through this dark time in history.
PHOTO 2022's presentation of the thirty winning images and three winning bodies of work will be displayed as an outdoor exhibition throughout Fitzroy and Collingwood.
Curated by Photo Australia
Presented in partnership with 1854
Supported by the UK/Australia Season Patrons Board, the British Council and the Australian Government as part of the UK/Australia Season