Asafe Ghalib (BR)
Queer Immigrants
27 January 2024 - 24 March 2024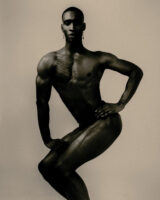 Image: Asafe Ghalib from the series Queer Immigrants, 2019. Courtesy the artist.
Intimate, bold portraits that aim to empower the queer community.
When
27 January 2024 - 24 March 2024
Venue
Gate 2, K Rd, Werribee South
Daily, 10am – 5pm
Accessibility
Wheelchair access
Price
Free
Asafe Ghalib photographs individuals in the LGBTQIA+ community, including friends and fellow-artists. Working mostly in black-and-white and sepia photography, Ghalib's images recall newspaper and historical photographs both from old books and magazines as well as traditional family photos—a type of portraiture that has been present since the invention of photography.
In embracing these parameters, the artist aims to confront societal expectations and stereotypes, building a powerful platform for the queer community to reclaim agency, as well as inspiring others to question the status quo.
"I mostly photograph individuals by themselves in order to allow their personality to emerge in full bloom," says Ghalib. "I want to communicate the person's ideas in their rawest, most beautiful and empowered form."
A Queer PHOTO exhibition curated by Brendan McCleary Presented by Midsumma and PHOTO Australia Supported by Creative Victoria through the Victorian Government's Go West Fund