29 April 2022 - 21 May 2022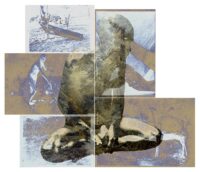 Image: Danie Mellor, redux, 2021. Courtesy the artist and Tolarno Galleries.
When
29 April 2022 - 21 May 2022
Venue
Level 4/104 Exhibition St, Melbourne
Tue – Fri, 10am – 5pm
Sat, 1pm – 4pm

Price
Free
Images have a powerful way of revealing connections between disparate histories and experiences. redux is an exhibition that assembles, re-assembles and sequences parallel and divergent narratives, curating archival and recent photographs in a way that evokes a pictorial and studied chronology. History repeats itself and redux shows how we are implicated in those cycles.
The ecological destruction portrayed in many of the images is an uncanny reminder of our current global and environmental impacts and contrasts acutely with intact rainforest ecologies shown alongside them. It is a reminder as well of the often-violent displacement of Aboriginal people and knowledge systems, with civilising enterprise failing to acknowledge the value of cultural systems embedded in story, Dreaming and Country.
redux aligns the splintered narratives of past and present experience into a compelling arrangement of large and intimately scaled photographic works, the audience witness to changes that unfolded in and on our landscapes.