Screening: Regarding Susan Sontag
6 May 2022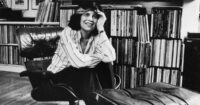 When
6 May 2022
Friday, 6pm
(AEST)
Venue
802 High St
Thornbury 3071
OPENING HOURS
Monday, Tuesday, Thursday, Friday: 5.00pm – 11pm
Wednesday: 10.30 am – 11pm
Saturday, Sunday 12pm – 11pm
All times approx
Price
$12.50-$19
Thornbury Picture House x PHOTO 2022 presents – REGARDING SUSAN SONTAG
Regarding Susan Sontag is an intimate and nuanced investigation into the life of one of the most influential and provocative thinkers of the 20th century.
Passionate and gracefully outspoken throughout her career, Susan Sontag became one of the most important literary, political and feminist icons of her generation. The documentary explores Sontag's life through archival materials, accounts from friends, family, colleagues, and lovers, as well as her own words, as read by Patricia Clarkson. From her early infatuation with books to her first experience in a gay bar; from her early marriage to her last lover, Regarding Susan Sontag is a fascinating look at a towering cultural critic and writer whose works on photography, war, illness, and terrorism still resonate today.
"Few authors seized as fully the range of experience, intellectual and physical that the writing life allowed." – Nathan Heller, Vogue.
Presented in partnership with