Opening: Sim Chi Yin & Nanna Heitmann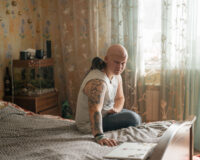 When
20 February 2021
Saturday, 6-8pm
(AEST)
Venue
1 Mater St, Collingwood
Wed – Fri, 12pm – 2pm
Sat, 12pm – 5pm
Accessibility
Wheelchair access
Celebrating the work of two extraordinary young talents in Magnum Photos, we officially invite the public to join Le Space Gallery in ushering in two major works on show by photographers, Nanna Heitmann and Sim Chi Yin.
Both installations are award-winning bodies of work and Australian premieres. Heitmann's exhibition, "Hiding from Baba Yaga" won her the prestigious Leica Oska Barnack Award for best newcomer in 2019 and Sim's exhibition commission for the 2017 the Nobel Peace Prize—won by the International Campaign to Abolish Nuclear Weapons—was also a recent winner of the 2020 Jimei x Arles Discovery Award.
Part of PHOTO 2021's Launch Weekend.
Free