Leilani Fuimaono (Sāmoa/AU)
So'otaga (Connection)
27 January 2024 - 1 July 2024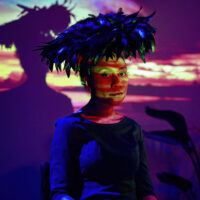 Image: Leilani Fuimaono, Pauline High Priestess, 2017. Courtesy the artist.
A love letter to and from queer Pasifika diaspora communities.
When
27 January 2024 - 1 July 2024
Venue
2 Market St, Newport
24 hrs
Accessibility
Wheelchair access
Price
Free
So'otaga (Connection) explores belonging, community, and connection in Melbourne's Pasifika & Māori diaspora.
Derived from Fuimaono's seven-year catalogue and featuring new works, this exhibition reflects on the intricate web of diaspora connections, particularly the potential for both intimacy and alienation within intersecting micro-communities. Contemplating the delicate yet enduring strength of these bonds, the series serves as a love letter both to and from the artist's extended LGBTQIA+ Pasifika & Māori community. Viewers are invited to reflect on their own deeply personal experiences of 'community', 'belonging,' and cultural identity.
A Queer PHOTO exhibition curated by Brendan McCleary Presented in partnership with Hobsons Bay City Council