Surge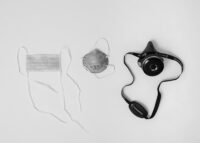 Venues
Cnr Swanston St and Collins St, Melbourne
Outdoor work – accessible all hours
Accessibility
Wheelchair access
Evolving over months of lockdown restrictions as the COVID-19 pandemic swept across Melbourne in 2020, Surge is a collective reflection of the nuanced and at times confronting experiences encountered by a diverse range of healthcare professionals.
In a time when photographic work was restricted and the healthcare worker experience was heavily politicised, Zoom conversations between the subjects and artists became central to developing the project using a collaborative, practice-led approach. A space to share stories and exchange ideas, these conversations became a means of catharsis and a place of connection for both the participants and artists.
In referencing the dichotomy between the clinical protocols of the pandemic and the vulnerability of the human experience, Surge combines the medical with the personal, to reveal and acknowledge our capacity to endure.
Commissioned by Photo Australia and the Metro Tunnel Creative Program for PHOTO 2021
On display from 18 February 2021