Julie Millowick (AU)
Surrounding
8 February 2024 - 16 June 2024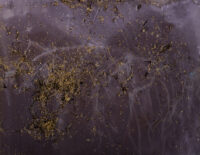 Image: Julie Millowick, Cassinia arcuata, the first plant to grow in damaged land symbolising renewal. Fryers Diggings Post Goldrush Landscape, 2023.
The beauty of Central Victoria's landscape in tumult and recovery.
When
8 February 2024 - 16 June 2024
Venue
14 Lyttleton St, Castlemaine
Thu – Sat, 11am – 4pm
Sun, 12pm – 4pm
Accessibility
Wheelchair access
Price
Free
Julie Millowick is a localist in the best sense of the word, an artist who is deeply embedded in the place where she lives. Over many years, Millowick has documented the environmental legacy of goldmining around her home near Fryerstown in Central Victoria. This strangely poignant landscape has been turned upside down through violent extraction—but it remains resilient and in the process of recovery.
Surrounding exhibits a curation of Millowick's significant body of work including a new series seen for the first time. Millowick's photographs show us the devastating effects of mining, drought, flood and invasive plants, but also remind us of the interconnectedness that links all parts of this ecosystem including its human occupants. This is a terrain which the artist loves, and which she sees with acute perception. It is a landscape full of complexity, a region with a terrible past, but in its capacity for renewal is also a place that offers a spark of hope for the future.
Curated by Jenny Long