Talk: Narrative in visual storytelling
27 February 2021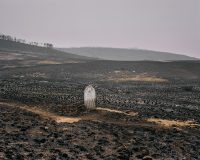 Tom Goldner, Do Brumbies Dream in Red, 2020
When
27 February 2021
Saturday, 3-3:45pm
(AEST)
Venue
404 George St, Fitzroy
Wed – Sun, 11am – 5pm
Accessibility
Wheelchair access, Auslan interpretor
If you require an Auslan interpreter please make your booking 3 business days in advance.
Price
Free
What is narrative and why is it important to understand its role in visual storytelling? What is the arc of a story? What are story beats? Do visual stories need a beginning, middle and end? In this session, journalist and scholar Alison Stieven-Taylor explores these ideas with photographer Tom Goldner. The pair discuss the role of narrative in visual storytelling and unpack the concept by examining Goldner's latest work, Do Brumbies Dream in Red? This body of work, which is both an exhibition and book, presents a complex visual story that draws on interrelated themes of colonialism, environmental degradation and the politics of climate change.
Part of PHOTO 2021's Photobook Weekend
Speakers
Alison Stieven-Taylor (AU)

Alison Stieven-Taylor is an international photography commentator, writer, curator and scholar. Her writing has appeared in publications including The Guardian, The Weekend Australian, Weekend Financial Review, World Press Photo Witness, the French journal The Eye of Photography, ABR Arts and Pro Photo magazine. She is also the publisher of the widely-read weekly blog Photojournalism Now. Alison has been a speaker at numerous photography festivals including Head On Photo, Auckland Festival of Photography, Pingyao International Photo Festival and Photo2021. She's also been a juror for various awards including the FotoEvidence Book Award with World Press Photo, ANZ Photobook Awards, the Walkley Awards, Head On Photo Awards, APA and Stories.

Tom Goldner (AU)

Tom Goldner (b.1984) is an Australian artist, curator and teacher of photography residing on Wurundjeri country in Sherbrooke, Victoria. His career spans art, commercial projects, education, fundraising, gallery management and community engagement initiatives. Goldner's creative practice is positioned within the expanded documentary genre of photography. His projects utilise a multifaceted, collaborative and experimental approach to storytelling which negotiate the intersections between social and environmental constructs. His projects have been exhibited regularly in Australia, published internationally and held in both private and public collections.