Talk and closing: PHRASER
21 May 2022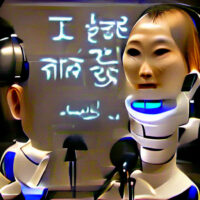 Image: Sam Lieblich, A reflection of us in the algorithm, from the exhibition PHRASER, 2021
When
21 May 2022
Saturday, 4pm
(AEST)
Venue
21 Easey St, Collingwood
Thu – Sat, 12pm – 5pm
Price
Free, no bookings required
What is the algorithm and what are we doing with it? It's a text, but it's dynamic, it listens, it seems to change itself. Is the algorithm a formula, novel, camera, or collaborator? What are we doing with it? What has it done to us?
Join us for an in-conversation between Sam Lieblich and award-winning electronic artist & designer Karen ann Donnachie and her collaborator Andy Simionato to celebrate the closing of the exhibition PHRASER, an AI intervention that seeks to reintroduce sex, desire and politics into utopian fantasies of artificial intelligence via psychoanalysis. The event will be followed by drinks.
Note that the talk will be live streamed on FUTURES' Instagram (@futures_gallery)
Artist
Sam Lieblich (AU)

Born 1983, Perth, Australia
Lives and works Melbourne, Australia

Sam Lieblich is a Melbourne-based artist investigating networked and algorithmic forms. His work explores the orientation/disorientation of the subject in the other, and the manifestations of the human-algorithm hybrid into which human beings are now subsumed. These digital works combine machine learning algorithms with custom code to foreground systems design and—by finding beauty and intention in the system—to try to re-situate human desire in the algorithm.