Talk: Damien Shen and Ashley Crawford
6 March 2021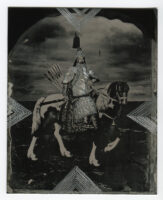 Damien Shen, Never Venture, Never Win, 2020. Courtesy the artist and MARS Gallery.
When
6 March 2021
Saturday, 1:30-2:30pm
(AEST)
Venue
Botanical Gardens, Bridge Street, Benalla
Daily, 10am - 4.30pm
Closed Tuesdays
Accessibility
Wheelchair access
Benalla Art Gallery welcomes all visitors and is committed to making its programs and services accessible to everyone. You can access Benalla Art Gallery through the main entrance via the Benalla Botanical Gardens, with all public areas of the Gallery accessible via ramps.
Join Benalla Art Gallery for an intimate conversation between artist Damien Shen and leading freelance cultural critic, Ashley Crawford. This free event coincides with Shen's A Stone from Another Mountain, presented at Benalla Art Gallery as an Official Exhibition of the PHOTO 2021 International Festival of Photography.
Crawford writes of Shen, "he is an artist who has become nationally renowned both for his remarkable skills as a draughtsman and for his unique explorations of personal background." Through this conversation, learn about Shen's multi-disciplinary practice, which combines painting, traditional drawing techniques, and wet-plate collodion photographic processes to explore his rich combined heritage of mainland China and the Ngarrindjeri peoples of South Australia.
Free – booking required.
To secure your place, phone or email Benalla Art Gallery: T 03 5760 2619 or gallery@benalla.vic.gov.au
Speakers
Damien Shen (AU)

Born 1976, Adelaide, Australia
Lives and works Adelaide, Australia

Damien Shen is a South Australian man of Ngarrindjeri and Chinese bloodlines. His artistic practice is embedded in histories, revisiting the people, places and stories that shape the world he occupies. From time consumer, labour intensive drawings to bleeding water colours and velvety smooth oil paintings, Shen is constantly constructing and deconstructing the world around him through his imagery to better understand his identity of those that help to shape the world he lives. While constantly exploring different mediums, his content remains relevant to contemporary Australian issues around race, history and politics. Constantly pushing his practice while engaging with and responding to the people, places and stories that effect his ideas around identity, Shen has started his career with a vigorous and contagious energy.

Ashley Crawford (AU)

Dr. Ashley Crawford is a freelance cultural critic, author, essayist, arts journalist and curator based in Melbourne. He is the author of a number of books on Australian art, including Spray, The Work of Howard Arkley (co-author, Craftsman House, 1997) and, most recently, Dark Gnosis: Religious Imaging in Millennialist America (Palgrave MacMillan, New York, 2018). He has been a regular contributor for numerous notable publications, and is the former editor of Tension, World Art, 21•C and Photofile magazines.