Talk: Faces, Bruce Gilden in conversation with Susan Van Wyk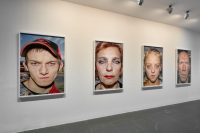 When
27 February 2021
Saturday, 11am-12pm
(AEST)
Venue
180 St Kilda Road, Melbourne, 3000
Daily, 10am - 5pm
Anzac Day Open 1 – 5pm, 25 Apr
Christmas Day Closed, 25 Dec
Accessibility
This event is online
Faces 2012–14 is an extended series of compelling photographic portraits by artist Bruce Gilden, featured in the NGV Triennial. These large-scale portraits, filmed in extreme close-up, show every line and blemish on his subject's faces, drawing attention to the lack of facial symmetry and perceived imperfections that mark us all as individuals. Gilden describes the series as an autobiographical reflection on his childhood in Brooklyn and the result of a lifelong fascination with 'characters' he encounters in pursuit of his subjects.
Gilden reflects on this work and discusses the concept and creative process behind its creation with NGV's Senior Curator of Photography Susan Van Wyk.
Presented as part of Photo 2021.
This program will be delivered online. To receive a reminder please register your attendance.
A link to join the event will be emailed to you the day before.
Speakers
Bruce Gilden (US)

Bruce Gilden initially enrolled to study sociology at Penn State University before he began taking classes in photography around 1967. Shortly after this time, he abandoned his formal studies and commenced a career in photography, which has spanned more than 50 years. He is renowned for his direct style of street photography, often working quite close to his subjects, resulting in dynamic – if sometimes uncomfortable – images of people going about their lives. Gilden has held numerous exhibitions of his photography and published eighteen monographs of his work. Since 1998 he has been a member of the Magnum Photo Agency.

Susan Van Wyk

Susan van Wyk is the Senior Curator of Photography at the National Gallery of Victoria. Since joining the NGV, she has worked on more than sixty exhibitions of Australian and international photography. Recent exhibitions include Olympia: Photographs by Polixeni Papapetrou, Colony: Australia 1770-1861, Bill Henson, Alex Prager, Thomas Demand, and William Eggleston. Over a thirty-year career Susan has written numerous catalogues, contributed to and journals on photography and she is the author of a number of books including: Olympia: Photographs by Polixeni Papapetrou, No Standing Only Dancing: Photographs by Rennie Ellis, and The Paris End: Photography Fashion and Glamour.