Talk: Photography and truth: a history of unveiling
1 March 2021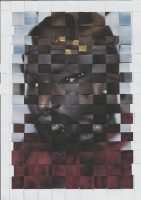 Atong Atem, 2020. Courtesy the artist and MARS Gallery
When
1 March 2021
Monday, 6-7pm
(AEST)
Venue
7 James St, Windsor

Tue – Sat, 10am – 5pm
Accessibility
Wheelchair access
With a look at the history of colonial and post-colonial photography across Africa and its influence on contemporary African Photographers working across the diaspora. This event will see photography Open Eye Gallery's photography curator Mariama Attah, writer and journalist Santilla Chingaipe and artist Atong Atem in conversation.
This discussion will reference history, migration and identity as a framework to discuss contemporary art and the work of South Sudanese artist Atong Atem and her new exhibition opening in February at Mars Gallery. Her new works which incorporate weaving, scanning and digital collage, explore the medium of photography and the process of making digital photographic works.
Free, no bookings required.
Speakers
Mariama Attah (UK)

Mariama Attah is a photography curator, writer and lecturer with a particular interest in overlooked visual histories, and how photography and visual culture can be used to amplify underrepresented voices. Mariama is curator of Open Eye Gallery, Liverpool. She was previously Assistant Editor of Foam Magazine. Prior to this, she was Curator of Photoworks, where she was responsible for developing and curating programs and events including Brighton Photo Biennial and was also Commissioning and Managing Editor of the yearly magazine Photoworks Annual.

Atong Atem (SS/AU)

Born 1994, Addis Ababa, Ethiopia
Lives and works Melbourne, Australia

Atong Atem is an Ethiopian born, South Sudanese artist and writer living in Narrm/ Melbourne. Atem's photographic practice explores migrant narratives, postcolonial practices in the African diaspora, and concepts of identity, home, and liminal space.  Her dynamic portraiture references widely, from Malick Sidibe and Seydou Keita to science fiction writer Octavia Butler.  She was awarded the inaugural National Gallery of Victoria and MECCA M-Power scholarship in 2018 and the Brisbane Powerhouse Melt Portrait Prize in 2017.

Santilla Chingaipe (AU)

Santilla Chingaipe is a journalist and filmmaker whose work explores migration, cultural identities and politics. Chingaipe is a regular contributor to The Saturday Paper, and serves as a member of the Federal Government's Advisory Group on Australia-Africa Relations (AGAAR). The recipient of a number of awards, she was recognised at the United Nations as one of the most influential people of African descent in the world in 2019. Her first book of non-fiction detailing the untold stories of convicts of African descent transported to the Australian penal colonies, is forthcoming with Picador.