Talk: Reading Photobooks with Photobook Club Melbourne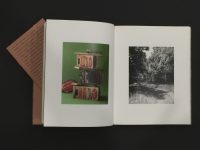 When
28 February 2021
Sunday, 11:30am-12:45pm
(AEST)
Venue
404 George St, Fitzroy
Wed – Sun, 11am – 5pm
Accessibility
Wheelchair access, Auslan interpretor
If you require an Auslan interpreter please make your booking 3 business days in advance.
What does it mean to 'read' a photobook? Join this meetup with Photobook Club Melbourne, and discover the new perspectives and depths of meaning that can come from exploring a photobook in a group discussion.
Photobook Club Melbourne, hosted by the Monash Gallery of Art, is a branch of the international Photobook Club network. Shaped by a commitment to openness and access, it is founded on a belief that the photobook is a vibrant medium for open consideration, learning and enjoyment. In Melbourne, gatherings are attend by photobook makers, photobook collectors, publishers, printers, librarians and collectors. Usually focusing on photobooks brought to meetings by participants the discussion ranges from analysing technical characteristics to conceptual ideas. Book dummies and self-published photobooks are also shared.
Free, registrations required.
Part of PHOTO 2021's Photobook Weekend
Speakers
Daniel Boetker-Smith (AU)

Daniel Boetker-Smith is an educator, writer, curator, publisher, and photographer Daniel is the Dean of Photography at Photography Studies College (Melbourne) and the Director of the Asia-Pacific Photobook Archive, a not-for-profit library of self-published and independent photobooks.

Bella Capezio (AU)

Bella Capezio is an artist, photographer and lecturer. She is the coordinator of the Asia-Pacific Photobook Archive, and is currently completing a PhD that oscillates around themes of religion, sanctity, queerness and landscape.

Anne Davies (AU)

Anne Davies, a photographic artist, is an active member of the Photobook Club Melbourne and the Melbourne Photobook Collective. A regular exhibitor at photobook fairs, her most recent artwork, Inside the fence, is a collection of 100 small, handmade photobooks made over 100 days.

Kristian Häggblom

Dr Kristian Häggblom is an artist, curator and educator who works with cross-cultural engagement and expanded documentary. He first moved to Japan in 1999 where he co-founded/curated RoomSpace Gallery in Omoide Yokocho ('piss alley'), Shinjuku, and has an ongoing relationship with the country and its culture. He completed his PhD through Monash University in 2014, was the inaugural artist-in-residence at the Australia Council for Arts Finland studio and was the founder/curator of Wallflower Photomedia Gallery, Mildura, in regional Victoria. He has curated several exhibitions in experimental spaces, (a motel and jail), for large festivals including Mildura Palimpsest Biennale. Häggblom's most recent curated exhibition, Tsuka: An Exhibition of Contemporary Japanese Photography, was staged at the Centre for Contemporary Photography in Melbourne and included a public program and dedicated website.

Stuart Murdoch (AU)

Stuart Murdoch has been practicing making art with cameras since the late 1980s. (You think by now he'd have it right.) He also teaches photography and makes photobooks. At other times, he can be found wandering the incongruous corners of Melbourne's western suburbs with any number of cameras in hand.

Suzanne Phoenix (AU)

Suzanne Phoenix is a Melbourne-based photographer capturing people and places through events, live music and performance as well as documenting street and daily life.

Clare Rae (AU)

Clare Rae is an artist making work about feminist lineages, institutional architectures and performative photography. She has been exhibiting her photographic and video works for 15 years in Australia and overseas. She is a current PhD candidate at the VCA, University of Melbourne.

Gareth Syvret (UK)

Gareth Syvret is a photography curator, researcher and educator currently working as the Cultural Development & Events Coordinator at the City of Monash. Before moving to Melbourne in 2018 he worked as photographic archivist and Archisle Project Leader for Société Jersiaise in the British Channel Island of Jersey.