The Memory and the Ashes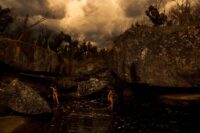 When
29 April 2022 - 22 May 2022
Venue
Spring St, East Melbourne
24 hrs
Theme
Accessibility
Wheelchair access
Price
Free
In Far East Gippsland, the coastal community of Mallacoota is one of Victoria's most remote towns, nestled in wilderness on the edge of the state below the NSW border. It was severely impacted by the black summer bushfires only months before the corona virus restrictions came into play. These events created new and uncertain dimensions within the social life of the community, where opportunities for people to gather were affected by pandemic-based prohibitions together with their new lives adapting to a complex post-bushfire recovery environment.
Rachel Mounsey continues to document the aftermath of these events across the social life of her community, and this series of images The Memory and The Ashes is drawn from her larger, ongoing project to record the lives of people in the crucible of change within the Far East Gippsland community and landscape that remains their home.
They depict brief moments where community and friends have come together in their recovering physical and social surrounds, aspiring to record those unique fleeting moments in reduced, unfamiliar times.
Here, human life, in the absence of what was once embraced as familiar and with great affection, is now filtered through the lens of loss, separation and the necessity to find new ways of living.
Commissioned by Photo Australia
Supported by Parliament of Victoria and the Restart Investment to Sustain and Expand (RISE) Fund, an Australian Government initiative