Nan Goldin (US)
The Ballad of Sexual Dependency
2 March 2024 - 2 June 2024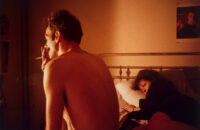 Image: Nan Goldin, Nan and Brian in bed, New York City, 1983, National Gallery of Australia, Kamberri/Canberra, purchased in celebration of the National Gallery of Australia's 40th anniversary, 2022. Courtesy the artist.
Legendary photographer Nan Goldin captures intimacy and pain in the New York underground.
When
2 March 2024 - 2 June 2024
Venue
40 Lydiard St North, Ballarat
Daily, 10am - 5pm
Accessibility
Wheelchair access
Price
Free
American artist Nan Goldin explores subculture, moments of intimacy, the impacts of the HIV/AIDS and opioid epidemics on her communities, and photography as a tool for social activism. Goldin's work is always born out of her own experience—her deeply personal and candid portraiture acts as a visual autobiography. Born in Washington DC, Goldin moved to New York City in 1978, where she began to photograph the post-punk new-wave scene, along with the city's vibrant, post-Stonewall queer communities.
The Ballad of Sexual Dependency, which began life as a slide show and was published as a now-iconic book in 1986, established Goldin as a major contemporary artist. A long-standing social activist, Goldin is the subject of the recent, award-winning documentary film All the Beauty and the Bloodshed, which considers the relationship between her photographic practice and her activism.
Please note this exhibition is not suitable for children under the age of 15. Curated by Anne O'Hehir A National Gallery of Australia Touring Exhibition