Malick Sidibé (ML)
The Eye of Bamako
1 March 2024 - 24 March 2024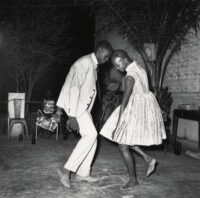 Image: Malick Sidibé, Nuit de Noël, 1963. Courtesy Gallery FIFTY ONE, Antwerp.
Joy and independence in 1960s Mali.
When
1 March 2024 - 24 March 2024
Venue
328 Swanston St, Melbourne
24 hrs
Accessibility
Wheelchair access
Price
Free
Legendary photographer Malick Sidibé captured the hopeful energy of his hometown of Bamako in the early years of Mali's independence—a time when change was afoot and youth culture was flourishing.
Affectionately known as The Eye of Bamako, Sidibé had a professional photography studio for making portraits. Studio Malick produced formal and staged portraits that emanated such energy and spirit that they have become a way of seeing Malian culture of that time. Outside studio hours, Sidibé spent his nights travelling around town (often by bicycle), photographing dances and social clubs, translating the joy and social freedom of people shaking off the shackles of colonialism and mingling on the dance floor.
Malick Sidibé was a master at knowing when to frame a person so as to show us their essence. "It's a world, someone's face," he said. "When I capture it, I see the future of the world."
Curated by PHOTO Australia Supported by Creative Victoria and Michael and Emily Tong