Eden Menta (AU)
The little things we fight for
10 February 2024 - 23 March 2024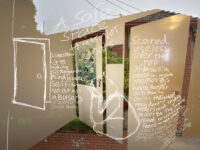 Image: Eden Menta, Untitled, 2023.
An exploration of queerness and neurodiversity.
When
10 February 2024 - 23 March 2024
Venue
Level 1 Perry Street Building, Collingwood Yards,
30 Perry St, Collingwood
Wed – Fri, 11am – 5pm
Sat, 12pm – 4pm
Closed on Public Holidays
Accessibility
Wheelchair access
Price
Free
In The little things we fight for, Eden Menta explores the intersections of queerness and neurodiversity through ideas around a sense of self and place in the contemporary landscape.
Drawing from deeply personal experiences, Menta unpacks the past and contemplates the present, teasing out what it means to belong—or not, as the case may be. By addressing these realities, Menta fights for a future that recognises the intersectionality of different identities and fosters safe, inclusive spaces to feel valued and supported.
This exhibition addresses universal tensions and ideas through Menta's intimate lens.