The Mother as a Creator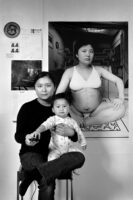 When
29 April 2022 - 22 May 2022
Venue
AC/DC Ln, Melbourne
24 hrs
Theme
Accessibility
Wheelchair access
"Like an artist, the Mother is wise in her creation. The Mother not only creates a life, but also a continuous matrix of experiences between Mother and Child."
Motherhood is a long-term process full of a myriad of complex feelings, a complexity captured by Taiwanese artist Annie Wang.
In 2001, she took pictures of her pregnant belly signed and dated, the way an artist signs a canvas. One of these images became the start of a project still ongoing. Since that first image, Wang has created a full series of layered photographs of mother and son, her photography upholding motherhood as a creative enterprise.
This presentation includes the premiere of the newest image in the series.
Curated by Photo Australia