Sunil Gupta (CA/UK)
The New Pre-Raphaelites
27 January 2024 - 14 April 2024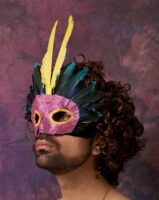 Image: Sunil Gupta, Untitled #11 from the series The New Pre-Raphaelites, 2008. Courtesy the artist and Hales Gallery, Stephen Bulger Gallery and Vadehra Art Gallery. © Sunil Gupta. All Rights Reserved, DACS 2021.
Nineteenth century English aesthetics meet contemporary Indian queer culture.
When
27 January 2024 - 14 April 2024
Venue
177 Watton St, Werribee
Mon – Fri, 9am – 4.30pm
Sat – Sun, 11am – 4pm
Price
Free
Presented in partnership with Autograph London, The New Pre-Raphaelites is a series of thirteen photographs merging Victorian era aesthetics with contemporary Indian queer culture. The series portrays individuals and families affected by Section 377 of the Indian Penal Code, which criminalised homosexuality. This law, instituted by the British in 1861 and not overturned until 2018, led to the arbitrary arrest and exploitation of LGBTQ+ Indians.
Taking as their starting point the work of the Pre-Raphaelites, a collective of nineteenth century English artists and reformists, these staged photographic works recreate the vivid colours and strong physical presence of the Pre-Raphaelite movement, bringing them into the twenty-first century, updated to reflect contemporary queer culture in India.
Also on display at Wyndham Art Gallery, a Project Hub features more work by Sunil Gupta, Karla Dickens and Peter Waples-Crowe.
A Queer PHOTO exhibition Presented by Wyndham City Council