Talk: The Power of Collective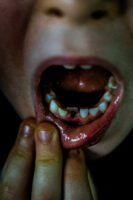 When
13 May 2022
Friday, 5pm
(AEST)
Venue
Botanical Gardens, Bridge Street, Benalla
Daily, 10am - 4.30pm
Closed Tuesdays
Price
Free, bookings required
Join members of Oculi for a panel talk exploring the experience of being in a collective, providing a rare insight into the benefits and challenges Oculi photographers have experienced historically, and in the development and realisation of the ambitious Benalla Art Gallery exhibition ACTS I-VII.
As Oculi member Dean Sewell wrote, "While the role of the photographer on a whole has often been referred to as an 'individualistic' pursuit, it is somewhat of a myth. Sure, when out in the field, it can be lonely or isolating but it is often within the identity structure of a collective that its individuals seek counsel, share ideas and pull each other forward of great benefit to the group, the individual, and the broader landscape of Australian visual storytelling."
The panel talk will be immediately followed by a celebration of the exhibition ACTS I-VII, providing an opportunity to meet Oculi photographers in a relaxed setting.
Artists
Oculi (AU)

Established 2000
Lives and works Australia-wide

Oculi is an Australian collective of 19 award-winning photographers, working across many diverse styles and perspectives. Now in its twenty-first year, Oculi is a leading influence in Australian fine art and documentary photography, its members united by a central conviction to visually respond to the changing world, through contemporary ethical practices. Oculi photographers have been recognised through national and international awards including World Press Photo, the Moran Contemporary Photography Prize, Australia's National Photographic Portrait Prize, and the William and Winifred Bowness Prize for Photography. Oculi's work is internationally published, widely exhibited, and represented throughout Europe and Japan by Agence VU.