The Rise and Fall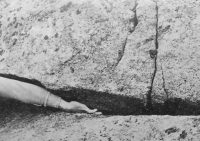 When
19 February 2021 - 7 March 2021
Venue
Cnr Ulster Lane & Spring St, Melbourne
24 hrs
Accessibility
Wheelchair access
Due to lockdown restrictions delaying installation of this work, The Rise and Fall will now be installed on 19 February.
A climber clings to the side of a building at 99 Spring St. Their trajectory is upward, but will they rise, or fall? Both a question and spectacle, Laura Delaney's The Rise and Fall is a site specific intervention that uses reworked found photography from vintage rock climbing journals. Blown up to billboard size and superimposed onto Melbourne's cityscape, Delaney's climber scales the realm of capitalist culture, navigating the terrain ahead.
The Rise and Fall is a meditation on the search for a new equilibrium in a planet facing crisis. Just as the image is dated, so too are our systems, calling to attention the need for a revised paradigm, mid climb.
Commissioned by Photo Australia for PHOTO 2021
Supported by the City of Melbourne Arts Grants Program