Sarah Walker (AU)
The Well
1 March 2024 - 24 March 2024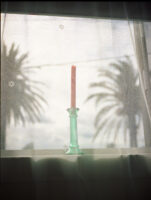 Image: Sarah Walker, Candle, 2019.
Premonitions envision potential futures and unspoken pasts.
When
1 March 2024 - 24 March 2024
Venue
1 St Heliers St, Abbotsford
24 hrs
Accessibility
Wheelchair access
Price
Free
The Well was set into motion one icy, winter after Sarah Walker created a series of images reflecting on a period of great solitude and reflection. These images were then put aside, only to be seen by the artist.
A visit to a psychic named Annabelle then prompted a change of heart. The psychic prophesied photographs Walker was already taking, naming particular scenarios, people and framings and making the series seem somewhat predestined.
On closer inspection, the past seemed to merge with the present and future as Walker began to find the foreboding descriptions from the psychic in her personal photographic archives–a black dog; the moon; the sea; a strange woman. The impact of this reading transformed these photographs into soft premonitions.
Seeing into potential futures is a slippery possibility. These images consider the power of reflection and the option for premonitions to be embodiments of both lived history and ways forward.
Curated by PHOTO Australia