Karla Dickens (Wiradjuri/IE/DE)
To See or Not to See
27 January 2024 - 24 March 2024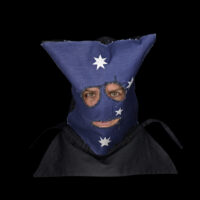 Image: Karla Dickens, Looking at you VI, 2017. Courtesy the artist and STATION, Australia.
Playful yet confronting self-portraits masking oppression and identity.
When
27 January 2024 - 24 March 2024
Venue
Gate 2, K Rd, Werribee South
Daily, 10am – 5pm
Accessibility
Wheelchair access
Price
Free
Wiradjuri woman Karla Dickens brings a black humour to her interrogation of subjects such as race, gender and injustice, revealing her often raw pain along the way.
In this exhibition, Dickens' studio self-portraits depict the artist in hoods with varying designs, acting as a reminder of the masking and oppression of recent Aboriginal experience.
"I'm not a politician; I'm an artist, a storyteller," says Dickens. "With my art, I talk about my personal experiences. I don't set out to make political statements. I am political simply because I am who I am – a single mother, a lesbian, a First Australian."
A Queer PHOTO exhibition Presented by Wyndham City Council