Candice Breitz (ZA)
Whiteface
8 February 2024 - 6 April 2024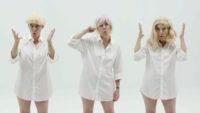 Image: Candice Breitz, Whiteface, 2022. Dual-channel video installation, colour, 35 min 23 sec (looped). Courtesy the artist and Anna Schwartz Gallery.
A critical look at how white people talk about race.
When
8 February 2024 - 6 April 2024
Venue
185 Flinders Ln, Melbourne
Tue – Fri, 12pm – 5pm
Sat, 1pm – 5pm
Accessibility
Wheelchair access
Price
Free
From prominent political figures to news anchors, to lesser known and anonymous YouTube bloggers, Candice Brieitz has been collecting and archiving found footage fragments documenting 'white people talking about race'. Running the gamut from neo-Nazi ideology and far right propaganda to everyday racism and the posturing of 'good white people', Breitz's archive observes the rising anxiety of white people as long-standing calls to dismantle white supremacy proliferate and intensify globally.
Whiteface offers an insight into the ongoing backlash against anti-racist movements, as white people struggle to come to terms with public discourse, highlighting phenomena such as 'white privilege,' 'white fragility,' 'white rage' and 'white guilt.' Breitz appropriates and ventriloquizes voices drawn from her archive, channelling them through her own white body. Dislocated from the white people who originally uttered them, the words that stream through the artist provide a scathing study of the vocabulary and grammar of how whiteness normalises and leverages its power.