Kate Golding with child artists from Naarm (AU)
Work In Progress
1 March 2024 - 24 March 2024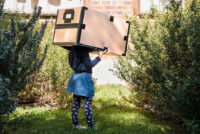 Image: Kate Golding, child holding pinhole camera, 2023.
A collaborative exhibition of child-led photographic artworks.
When
1 March 2024 - 24 March 2024
Venue
1 St Heliers St, Abbotsford
Tue – Fri, 10am – 2pm
Sat – Sun & Public Holidays, 10am – 4pm
Accessibility
Wheelchair access
Price
Free
Work in Progress is a collaborative exhibition between artist and curator Kate Golding and the children of Naarm/Melbourne.
Featuring works created by children using a variety of photographic processes, Work In Progress will continue to grow throughout the festival as more and more people of all ages contribute to this thought-provoking and uplifting exhibition.
Throughout the exhibition, there will be enriching opportunities for creative and hands-on engagement, as well as special events and celebrations with artists and audiences of all ages and backgrounds. Work In Progress is the first children-led exhibition in PHOTO, not to be missed!