Youth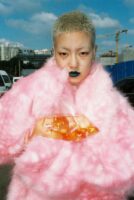 When
29 April 2022 - 22 May 2022
Venue
1 Market St, Newport
24 hrs
Theme
Accessibility
Wheelchair access
Luo Yang's photographs document contemporary Chinese youth culture in flux. Following on from her acclaimed series Girls, which explored women born in the 1980s, Yang refocuses on the emerging Generation Y as they search for individual expression.
Yang captures teenagers and young adults far from the slick, sanitised youth image typically associated with Chinese popular culture. In turns bold and naïve, Yang's subjects defy social codes, display fragility and love, and explore gender fluidity.
Displayed on six outdoor billboards at The Substation, Youth introduces us to the generation growing up in a shifting, globalised Chinese society.
Curated by Photo Australia in partnership with The Substation