Eric Bridgeman (Yuriyal)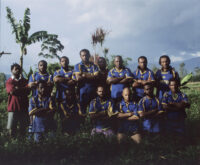 When
12 March 2022 - 5 June 2022
Venue
26 Acland St, St Kilda

Tue – Sun, 11am – 4pm
Theme
Accessibility
Wheelchair access
Price
Free
Eric Bridgeman (Yuriyal) presents a selection of photographic work created between his home in the Highlands of Papua New Guinea and Australia.
Yuriyal (meaning: Man of Yuri) belongs to the Yuri tribe of South Simbu, Papua New Guinea. He produces portraits collaboratively with his fellow tribesmen and those closest to him, in traditional and domestic settings, to form personal tributes through intimate and meaningful exchanges within men's spaces—the artist's studio, the rugby field and the 'hausman', a traditional Papua New Guinean men's house.
This exhibition includes new work presented alongside photographs taken over the last decade, but never shown before. The photographs are accompanied by written language, which provides further insight into the personal experiences and relationships depicted.
Curator
Juliette Hanson (AU)

Juliette has held the role of Curator at Linden New Art since 2017. Previously, she held the roles of Special Projects Curator and Senior Curator at the Jewish Museum of Australia. From 2011 to 2015 Juliette held the roles of Exhibitions Manager and Senior Curator at The Dax Centre, where she toured scores of exhibitions across Australia and internationally. Juliette has also worked in a number of commercial galleries and artist-run initiatives in Melbourne, as well as maintaining an independent curatorial practice. Juliette holds a Master of Art Curatorship from the University of Melbourne (2006) and a Bachelor of Arts with Honours in Art History and Philosophy from the University of Liverpool, UK (2003).