Brook
Andrew

(AU)

WIRADJURI/CELTIC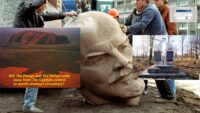 Image: Brook Andrew, SMASH IT, 2018, single channel video, 28 minutes. Edited by Giacomo Sanzani and Brook Andrew. This project was produced through a Smithsonian Artist Research Fellowship.
Born 1970, Sydney, Australia
Lives and works Melbourne, Australia
Brook Andrew is an artist, curator and writer based on the lands of the Wurrundjeri and Boon Wurrung peoples of the Kulin Nation. He is driven by the collisions of intertwined narratives, often emerging from the mess of the Colonial Wuba (hole). His practice is grounded in his perspective as a Wiradjuri and Celtic person with matrilineal kinship from the kalar midday (land of the three rivers) Australia. His artworks, research, leadership roles and curatorial projects challenge the limitations imposed by power structures, historical amnesia and complicity to centre and support Indigenous ways of being through systemic change and yindyamarra (respect, honour, go slow and responsibility). Apart from drawing inspiration from vernacular objects and the archives he travels internationally to work with artists, communities and various private and public museum and gallery collections.