SMASH IT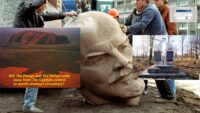 When
21 February 2021 - 7 March 2021
Accessibility
Wheelchair access, Accessible Parking
Please note SMASH IT will not be open on Monday 1 March 2021.
Due to lockdown restrictions delaying installation of this work, SMASH IT will now open on Sunday 21 February.
Brook Andrew's video work brings together imagery of the destruction and defacement of monuments, old films and news stories. Throughout, there are excerpts from the artist's interviews with Indigenous intellectuals and creatives Marcia Langton, Wesley Enoch, Lyndon Ormond-Parker and Maxine Briggs about cultural protocols and the artist's earlier video work The Pledge, which is a reinterpretation of Jedda (1955) – the first colour feature film made in Australia and arguably the first starring Aboriginal peoples in lead roles.
The title is a reference to the history of smashing and defacing monuments which has particular resonance today. The artist interweaves, reveals and disrupts primitivist narratives and right-wing extremist thought which continue to influence our lives. The work is created as a form of digital collage, including a hypnotic soundtrack, with materials sourced from the Internet, the Smithsonian Institute's collections, and Andrew's extensive archive of printed materials. The work was created during a Smithsonian Artist Research Fellowship in 2017 and it is edited in collaboration with Giacomo Sanzani.
SMASH IT is screened at PHOTO 2021 in a customised shipping container, wrapped with Andrew's personal mantra – NGAJUU NGAAY NGINDUUGIRR – Wiradjuri for 'I see you'.
Presented by Photo Australia for PHOTO 2021
Supported by the City of Stonnington