Cecilia Sordi
Campos

(BR)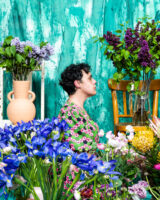 Born 1989, Santa Rosa de Viterbo, Brazil
Lives and works Melbourne, Australia
Cecilia is a Brazilian-born, Australia-based photographic artist, writer and researcher.
Her practice is positioned in the field of socially engaged art, autofiction and expanded photography. Cecilia's projects recognise 'narratives of the self' that sit outside traditions and limitations of colonial narratives as resources in the development of visual vocabularies to represent complex experiences of being-ness, womanhood and the female body, and migration and hybrid cultural identity.
Cecilia's aim is the seeking of strategies in communicating complex experiences within public discourses; therefore, proposing a parting from traditional systems of power and privilege to rediscover inclusive ways of knowing and aesthetic expression.