Hanna
Putz

(AT)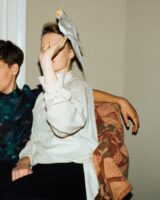 Image: Hanna Putz, Everything Else is a Lie, 2019. Courtesy the artist.
Born 1987 in Vienna, Austria. Lives and works in Vienna, Austria and Berlin, Germany.
An autodidact, Hanna Putz is interested in conveying moments that defy our culture of ubiquitous self-awareness. Documenting everyday moments from the tender to the absurd, Putz provokes the notion of authenticity and of self-presentation, and what she calls ' the high demands of self-representation' today. Putz's work has been exhibited internationally, including at Kunsthalle Vienna, the Museum of Contemporary Photography, FOAM Museum, The Photographers Gallery, Autocenter Berlin, and at the 6th Moscow Biennale. Her work has been featured extensively in magazines such as DUST Magazine, TAR Magazine, Vogue Paris, i-D Magazine, New York Magazine, as well as recently featured in the British Journal of Photography. Her latest publication, aptly titled 'Everything else is a lie' (2019) is out now from PAMPAM Publishing.