Ioanna
Sakellaraki

(GR)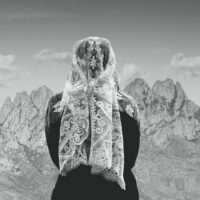 Image: Ioanna Sakellaraki, The Truth is in the Soil, 2019. Courtesy the artist.
Born 1989, Athens, Greece
Lives and works Melbourne, Australia
Ioanna Sakellaraki's work investigates the relationship between collective cultural memory and fiction. Drawing emphasis on the photographic object, process and encounter, she explores the boundaries of a primitive, yet futuristic vision of places and people. She was recently awarded a Doctoral Scholarship for undertaking her PhD in Art after graduating from an MA Photography from the Royal College of Art. She is the recipient of The Royal Photographic Society Bursary Award 2018 and was named Student Photographer of the Year by Sony World Photography Awards 2020. Her first monograph 'The Truth is in the Soil' is published by GOST Books.