J
Davies

(AU/MĀORI)

MĀORI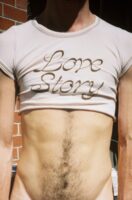 Image: J Davies, from the series Love Story, 2022. Courtesy the artist.
Born 1994, Naarm (Melbourne), Australia
Lives and works Naarm (Melbourne), Australia
J Davies is a queer, agender, First Nations (Māori) photographic artist living and working on stolen lands of The Kulin Nation (in Melbourne, Australia).
Their work explores queer intimacy for a queer audience. Through the use of analogue and instant photographic processes, they are developing a body of work that highlights and celebrates the importance of queer life and community. Creating this work relies on the development of safe spaces and intimate relationships between artist and subject, which has shaped the artist's practice into one of empathy and collaboration.