Talk: Florian Hetz and J Davies in conversation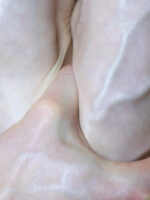 When
22 May 2022
Sunday, 3-4pm
(AEST)
Venue
404 George St, Fitzroy
Wed – Sun, 11am – 5pm
Price
Free, bookings required
Join PHOTO 2022 artists Florian Hetz and J Davies in conversation about their practice and Festival exhibitions.
Berlin-based artist Florian Hetz started his career as a photographer in efforts to creative a visual diary to stave off memory loss from encephalitis, an inflammation of the brain. For PHOTO 2022, Florian Hetz presents Haut — displayed around the Coles Fountain in Parliament Gardens, the subtle details of skin in these images are emphasised by the fountain's spray and the large scale of the prints.
J Davies is a queer, agender, First Nations (Māori) photographic artist based in Melbourne. Through the use of analogue and instant photographic processes, they are developing a body of work that highlights and celebrates the importance of queer life and community. For PHOTO 2022, J Davies' works are showing as a part of New Photographers and Queering the Frame: Community, Time, Photography.
J Davies is being mentored by Florian Hetz as part of PHOTO 2022's New Photographers program.
Speakers
J Davies (AU/Māori)

Born 1994, Naarm (Melbourne), Australia
Lives and works Naarm (Melbourne), Australia

J Davies is a queer, agender, First Nations (Māori) photographic artist living and working on stolen lands of The Kulin Nation (in Melbourne, Australia).
Their work explores queer intimacy for a queer audience. Through the use of analogue and instant photographic processes, they are developing a body of work that highlights and celebrates the importance of queer life and community. Creating this work relies on the development of safe spaces and intimate relationships between artist and subject, which has shaped the artist's practice into one of empathy and collaboration.

Florian Hetz (DE)

Born 1985, Frankfurt, Germany
Lives and works Berlin, Germany

After a severe encephalitis put an abrupt end to his professional life as producer for theatre, Florian Hetz started to keep a visual diary to counteract the memory loss as an after-effect of the brain inflammation. He began documenting his daily life during the recovery. Gradually the process of taking diary photos shifted to creating photos that were based on his memories, or what he had to trust his memory was.

Much of the Berlin photographer's work from that time zooms in on those memories by using the close up as a stylistic medium. By closing in on those seemingly normal every day moments and bodies, he elevates them and translates them into his very own hyper focused, visceral language.

During an artist residency at the Tom of Finland Foundation in Los Angeles Hetz started to introduce landscapes and still-lifes into his work and began to engage with natural light. His second book "ZWEI" combines the clean, factual studio work from Berlin with the warm plein-air work from Los Angeles, and the juxtapositions create a dialogue between them.

And while his work still dissects the possibilities of the human body, he came full circle in 2020, when he started to concentrate again more on the diary photos. His new Book "AIKO" will be released at the end of 2021 and will introduce this body of work for the first time to the public.

Haut by Florian Hetz is supported by the Goethe-Institut