Haut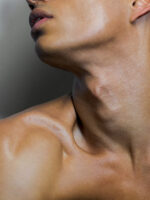 When
29 April 2022 - 22 May 2022
Venue
Spring St, East Melbourne
24 hrs
Theme
Accessibility
Wheelchair access
Price
Free
When encephalitis, an inflammation of the brain, put an abrupt end to his career producing opera and dance, German artist Florian Hetz started a visual diary to stave off memory loss, starting his career as a photographer.
Haut (skin in German) is a deeply tactile series, offering a sense of touch, intimacy, and evoking a deep sensuality. Close crops and contorted bodies create a playfully visceral series of images to awaken our imaginations.
Displayed around the Coles Fountain in Parliament Gardens, the subtle details of skin in these images are emphasised by the fountain's spray and the large scale of the prints. The result is intimate and ethereal.
Curated by Photo Australia
Haut has been supported by Goethe-Institut