Jill
Orr

(AU)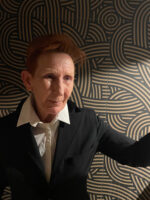 Jill Orr
Born 1952, Melbourne, Australia
Lives and works Melbourne, Australia
Jill Orr's site-specific performance and photographic work centres on the psycho- social and environmental where she draws on land and identities as they are shaped in, on and with the environment be it country or urban locales. Orr grapples with the balance and discord that exists at the heart of relations between the human spirit, art and nature. Orr has presented works nationally and internationally, including, the inaugural Venice International Performance Art Week, Italy, Australia: Antipodean Stories at PAC, Milan, Belo Horizonte and Curitiba Biennales, Brazil. Jill Orr is represented by This is No Fantasy.