Julie
Millowick

(AU)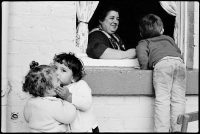 Image: Julie Millowick, Limurru, 1976.
Julie Millowick began her photographic career working in the darkroom of Athol Shmith, John Cato and Peter Barr. After completing her studies at Prahran College of Advanced Education, she worked for three years as a press and public relations photographer. The direction of her commercial folio then changed, and she worked as a corporate industrial photographer—lighting, both in the studio and on location, became the basis around which her imagery revolved.
Julie achieved early recognition for her photojournalism when she exhibited at the National Gallery of Victoria and Australian Centre for Photography in 1977 as part of Australian New Work. She has exhibited and published regularly since then, with work being purchased by major photography collections in Australia and internationally. In 1993 she exhibited work in the exhibition Intimate Lives with leading International photographers Sally Mann, Nan Goldin and Jaques Henri Lartigue at the International Fotofeis in Edinburgh, Scotland.