Karabo
Mooki

(ZA)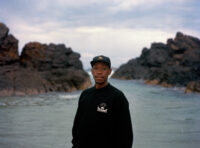 Born 1988, Johannesburg, South Africa
Lives and works Johannesburg, South Africa
This photo-documentation explores the lives of a community built by Black women in skateboarding. The young women in this series are pushing borders, and gaining greater recognition by reclaiming their right to appear in the places they skate, and in protest to South Africa's tumultuous history of gender-based violence.
The skateboarding community is made up of a tight knit crew of women and queer identities. Safety and strength come from a mutual, shared vulnerability in parallel with facing power relations found in public spaces. The dynamic agency of the group extends beyond their representation in images. Through action and agency created by forming new group dynamics across genders and experiences, skateboarding becomes a platform to articulate sites of resistance.