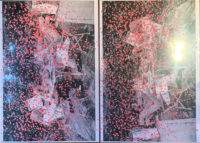 Born 1975, Melbourne
Lives and works Melbourne, Australia
Lane Cormick's work draws from a wide array of influences including the aesthetics of the industrial and functional, investigation of skill and technique, performance, music, modernist and contemporary culture. These influences feed into an art practice that is open-ended and without predictable outcome. Previous works have been created through endurance-based performance or procedure, with a commitment to impractical or unreasonable projects that test him physically and mentally, exposing the limits of his skills and the enormity of his attempts.
Cormick has previously exhibited at Melbourne Art Fair, Daine Singer, Tristian Koenig, Neon Parc, CCP, RMIT Project Space, Gertrude Contemporary and the Australian Centre of Contemporary Art in Melbourne; and at Chalk Horse Gallery, Sydney; UKS Gallery, Oslo; Art Forum Berlin; Artspace, Sydney. He has also exhibited at various artist-run initiatives such as Hell, Plinth Projects, Platform, Bus, Penthouse and Pavement, Kings, TCB and First Floor. Cormick has been the recipient of an Australia Council residency in Los Angeles and a Gertrude Contemporary residency in Melbourne. He completed a Bachelor of Fine Art (Drawing) from the Victorian College of the Arts in 1999. In 2017 VERSION published the limited edition artist book, Lane Cormick: NOHARDATTACK.