Lisa
Sorgini

(AU)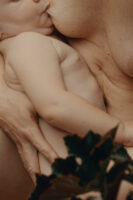 Image: Lisa Sorgini, Joan and her son, Redfern, 2019. Courtesy the artist.
Born 1980, Adelaide, Australia
Lives and works Bundjalung Country (Northern NSW), Australia
Lisa Sorgini is an Australian artist with an Italian immigrant background who resides in northern New South Wales (Bundjalung Country). Her practice engages with the relationship between mother and child, family and community and investigates the societal constructs and expectations that are often vastly at odds with the lived experience. She is deeply interested in the way our familial relationships, particularly the mother role looks and changes over time. In 2021 she has had work selected as winner of the Lucie Awards Portrait Project and CCP Ilford Salon for 'Most Critically Engaged' image, selected to have work exhibited in the Taylor Wessing Photographic Portrait prize(UK) , and been shortlisted for the National Portrait Prize (Aus) and the Ravenswood Australian Womens Art Prize (Aus). She was also nominated to participate in the Leica Oskar Barnack Award. Her work has been exhibited within Australia and internationally as well as being published extensively worldwide, with recent interviews and features in The New Yorker, TIME Magazine, Creative Review and National Geographic.