Opening reception: 'The Portrait'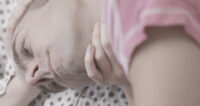 When
29 April 2022
Friday, 4-7pm
(AEST)
Venue
Level 7/37 Swanston St, Melbourne
Wed – Sun, 12pm – 6pm
Price
Free, no bookings required
Join us for the opening reception of The Portrait, curated by Josephine Mead and Karl Halliday.
As a genre of photography that conflates image with identity, The Portrait carries a complex and problematic past. How portraiture is made and used is ever-evolving, its history a record of social change, documenting shifts in cultural values and technology. The role that portraiture performs in our lives has transformed, along with the attitudes and approaches of artists in responding to the task of art-making amidst the rapidly changing conditions of contemporary visual culture.
The Portrait is an investigation into the emerging and fluid possibilities of portrait photography and its impact upon image-making today. Ten artists have been invited to produce 'a portrait' for exhibition. The artists selected work in both traditional modes of portrait photography and alternative multidisciplinary practices. By considering the medium in an expanded sense, the artists are able to contemplate, critique, and challenge the limits of what a portrait can be.
Artists
Abigail Varney (AU)

Born 1986, Melbourne, Australia
Lives and works Melbourne, Australia

Abigail Varney is a portrait and documentary photographer based in Naarm (Melbourne), Australia. Working in book form, print and installation her work predominantly evolves from her curiosity and connection to Australia's land, people and ecology. Exploring the the vivd extremities that connect our experience with climate, isolation and resilience. Her work is more recently moving back closer to home, influenced by the intimacy of her family archives. This new direction reveals stories that centre her social community guided by a personal point of view.

Lucy Foster (AU)

Born 1986, Castlemaine, Australia
Lives and works Melbourne, Australia

Lucy Foster is a lens-based artist working across photography, video and installation. Her process engages with assemblage through the use of found items, image archives and text. Foster's practice is conceptually driven by experiences of loss and considers the ways in which technologies shape our understanding of it. Foster graduated with a Bachelor of Fine Arts (Photography, 2016) and Honours (2018) at the Victorian College of the Arts, Naarm (Melbourne). She frequently exhibits her work in solo and group exhibitions both locally and internationally.

Sam Lieblich (AU)

Born 1983, Perth, Australia
Lives and works Melbourne, Australia

Sam Lieblich is a Melbourne-based artist investigating networked and algorithmic forms. His work explores the orientation/disorientation of the subject in the other, and the manifestations of the human-algorithm hybrid into which human beings are now subsumed. These digital works combine machine learning algorithms with custom code to foreground systems design and—by finding beauty and intention in the system—to try to re-situate human desire in the algorithm.

Arini Byng (AU/US)

Born 1987, Gadigal Land (Sydney), Australia
Lives and works Naarm (Melbourne)

Arini Byng makes body-based work. Born on Gadigal land, she is a First Nations multidisciplinary artist of Lenape, African American and Anglo-Celtic descent. Trained as a photographer, Byng's work comprises video, photography, performance, sound, sculpture and installation.

Byng works with the affective qualities of materials, gestures and settings; undertaking exercises in image, movement and form to negotiate political scenes. Byng's videos and performances are complex, intimate studies in gesture and action. Her practice endeavours to illustrate a haptic or tactile phenomenology of the body as it encounters the physical world. In her work to date, Byng has used the body in motion as a means of unpacking familial ties and histories; physical intimacy between friends; the interrelation of performance and the screen; the potential generated by structural collapse and our means of experiencing and holding space in the world. In Byng's performances, the camera is not a distinct entity, but an active and integral participant. Byng's practice also operates through collaboration with other practitioners such as contemporary dancers, musicians and visual artists.

Her work has been exhibited nationally including Blak Dot Gallery, Watch This Space, Neon Parc Project Space, MPavilion, c3 Contemporary Art Space, Blindside, Bus Projects, Margaret Lawrence Gallery, The Australian Centre For Contemporary Art, and The Centre for Contemporary Photography. Selected works have been published by Perimeter Editions, Higher Arc, Le Roy and Photofile; with work held in the publication collections of V&A, MoMA, MOCA and Tate Modern. Arini lives and works in Naarm (Melbourne) on the unceded sovereign lands and waterways of the Boon Wurrung and Woi Wurrung (Wurundjeri) people of the Kulin Nation.

Anne Moffat (AU)

Born 1991, Melbourne, Australia
Lives and works Melbourne, Australia

Anne Moffat is a photographer working across an array of editorial, commercial and personal projects based in Naarm/Melbourne. Anne draws on familial ties to Malaysia, China, and New Zealand, as well as family migration to Australia, to inform her social documentation and portraiture. In 2021, Anne's most recent project, Forget Me Not 勿忘我, was awarded Jury's Choice in the Prix Virginia, and exhibited at the Centre for Contemporary Photography, Horsham Regional Art Gallery and Singapore International Photography Festival. Anne complements her practice with a Bachelor of Science and Diploma of Languages from The University of Melbourne, and is a member of Women Photograph, Diversify Photo and Authority

Nayuka Gorrie

Born 1990, Melbourne, Australia
Lives and works Iramoo (Brunswick) on Wurundjeri land, Australia

Nayuka Gorrie is a Gunai/Kurnai, Gunditjmara, Wiradjuri and Yorta Yorta freelance and comedy television writer. Their writing centres on black, feminist and queer politics. They co-wrote and performed in the third and fourth seasons of Black Comedy and provided additional writing on the second season of Get Krack!n. More recently, Nayuka was a writer for the sbs/Matchbox series, The Heights (season 2) and the NITV children's series, Thalu. Nayuka's writing can be found in The Guardian, Saturday Paper, Vice, Junkee, Archer Magazine, The Lifted Brow and NITV among others. Nayuka contributed to the anthologies Growing Up Queer in Australia and Animals Make Us Human and is currently writing a book of essays as a recipient of The Wheeler Centre's Next Chapter initiative to support their writing.

Phebe Schmidt (AU)

Born 1993, Melbourne, Australia
Lives and works Melbourne, Australia

With a background in stylised character-based photography that draws on the surrealism of glamour and consumption, Phebe moved into film direction, bringing her eye for singular and fun imagery to the screen. Inspired by science fiction and a culture of online self-performance, Phebe has the rare ability to approach complex topics with a playful sense of humour and a cutting-edge sense of style. Her unique visual language has seen her work for esteemed national and international publications from Vogue to Vault Art magazine. Phebe was the recipient of the 2018 Eastside International Residency (Los Angeles) 2018 and has exhibited work nationally and internationally at MONA (TAS), West Space (VIC), Art Space (NSW), Gertrude Contemporary (VIC), Moana Project Space (WA), Sarah Scout Gallery (VIC) and Gaia Gallery (Istanbul) among others.

Danny Cohen (AU)

Born 1987, Melbourne, Australia
Lives and works Melbourne, Australia

Danny Cohen is a Melbourne-based director who has filmed and photographed some of the most interesting and influential figures in contemporary music. An accomplished photographer, Cohen has in recent years become a sought-after music video director, and his kaleidoscopic clips for King Gizzard and the Lizard Wizard, Kirin J. Callinan and longtime collaborator Courtney Barnett have attracted tens of millions of views online. His diverse photographic portfolio includes memorable portraits of Eric Andre and Mac DeMarco. Cohen is a past winner of the Triple J Music Video of the Year award and a past nominee for the ARIA Best Music Video award. Cohen's debut feature film Anonymous Club (2021) — an intimate, raw portrait of Courtney Barnett premiered at MIFF 69.

Lisa Sorgini (AU)

Born 1980, Adelaide, Australia
Lives and works Bundjalung Country (Northern NSW), Australia

Lisa Sorgini is an Australian artist with an Italian immigrant background who resides in northern New South Wales (Bundjalung Country). Her practice engages with the relationship between mother and child, family and community and investigates the societal constructs and expectations that are often vastly at odds with the lived experience. She is deeply interested in the way our familial relationships, particularly the mother role looks and changes over time. In 2021 she has had work selected as winner of the Lucie Awards Portrait Project and CCP Ilford Salon for 'Most Critically Engaged' image, selected to have work exhibited in the Taylor Wessing Photographic Portrait prize(UK) , and been shortlisted for the National Portrait Prize (Aus) and the Ravenswood Australian Womens Art Prize (Aus). She was also nominated to participate in the Leica Oskar Barnack Award. Her work has been exhibited within Australia and internationally as well as being published extensively worldwide, with recent interviews and features in The New Yorker, TIME Magazine, Creative Review and National Geographic.