Opening: Honey Long and Prue Stent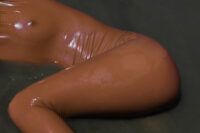 When
29 April 2022
Friday, 4-7pm
(AEST)
Venue
45 Flinders Ln, Melbourne
Wed – Sat, 11am – 5pm
Price
Free, no bookings required
Join us for the opening of Land of Milk and Honey by Honey Long and Prue Stent
This exhibition depicts an imagined space existing below the surface of contemporary fantasy, where material ecologies, consumption, destruction, desire, human and non-human bodies entangle.
Long and stent construct surreal scenes where the body is employed as both raw material and apparition, becoming a conduit for subconscious feelings and interpretation. Fetishistic materials- netting, glow-mesh, and latex- as well as more commonplace objects merge with the organic creating a rich network of symbolic association.
Working within sites which have been drastically altered in some way by human activity, the beautiful and the disturbing coalesce. From salt lakes and pink clay cliffs to the vibrant soils around copper mines and opal shafts, there is a sensuous materialism in these landscapes which is both deeply unsettling and breathtaking.
In capturing performative encounters with these environments, evocative moments become crystallised, conveying feelings of transience, permeability and transmutation. Alongside their images, blown glass forms slump and ooze against frames, plinths, corners and walls, translating ideas within the work into a tangible 3D element that can be felt within the gallery space.
Artists
Honey Long & Prue Stent (AU)

Born 1993, Sydney, Australia
Lives and works Melbourne, Australia

Since 2010 multidisciplinary artists Honey Long and Prue Stent have worked together across photography, performance, installation and sculpture. Spontaneous and playful, their art centres on a fascination with gender and the body, and seeks to undermine notions of the passive female. Interested in the poetics and symbolism which arise from material and bodily processes, feelings of transience, permeability and transmutation permeate much of their work. They employ the body and unconventional materials to distort and fragment the bodily form, often with unexpected outcomes. Dreamy, fluid, saccharine, gritty and fleshy, Long and Stent challenge and captivate audiences with powerful imagery that crosses the subversive and the surreal.