M. Palani
Kumar

(IN)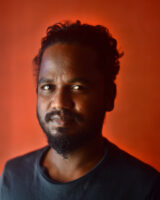 Born 1991, Madurai, Tamil Nadu , India
Lives and works Chennai, India
Hailing from the village of Jawaharlalpuram in Madurai district, M Palani Kumar decided to pursue engineering as per the wish of his mother, a fish seller. He graduated with B.E., E&I under the sports category. In 2013, while he was still pursuing engineering, he applied for a loan and purchased his first camera.
He worked as a cinematographer for the critically acclaimed documentary [Kakoos] – a searing narrative on the lives of manual scavengers in Tamil Nadu. In a couple of years, Kumar put together his first photography exhibition – Naanum oru Kullanthai(I am a child too) in Chennai, featuring photographs of the children of manual scavengers.
Since 2019, as a fellow of PARI, Kumar is currently documenting the lives of working-class women across India. Kumar is also associated with Pep Collective – a Forum of socially responsible photographers in Tamil Nadu.
He was recognized as one of the 'Top Ten Humans 2019' by Ananda Vikatan – a widely recognized Tamil Magazine, for his attempt to sensitize and visibilise the work of manual scavengers to an otherwise desensitized world. In March 2020, he received the 'Best Story of the Year – 2020' award from the Public Relations Council of India. In 2022, he received award from Zee Tamil's 'Tamizha Tamizha Award'.
He received the Amplify grant in 2021. In November 2020, he received the Imagining the Nation State grant from Chennai photo biennale, and in October 2020, The Samyak Drishti and Photo South Asia Grant. In 2022, he received the first Hasselblad Award-winning photographer Dayanita Singh- PARI Documentary Photography Award.
Kumar hopes to continue using his art form to bring to light, the lives, celebrations, and struggles of marginalized communities which are often neglected.