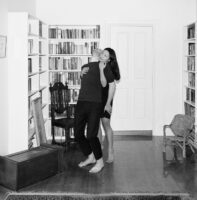 Born 1991, Canberra, Australia
Lives and works Melbourne, Australia
Madeline Bishop is a photography and video artist based in Melbourne, Australia. Bishop's work is conceptually centred around relational dynamics. Exploiting the persistent tension between distance and closeness in photographs, Bishop's work uses a performative and constructed approach to dissecting the relationship between photography and intimacy. Bishop is a Master of Fine Arts graduate with First Class Honours from the Victorian College of the Arts in Melbourne.