Maree
Clarke

(AU)

YORTA YORTA/ WAMBA WAMBA/ MUTTI MUTTI/ BOONWURRUNG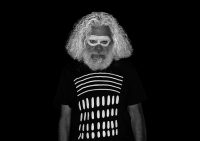 Image: Maree Clarke, Uncle Jack Charles (Men in Mourning), from the Ritual and Ceremony series, 2012.
Photographer and artist Maree Clarke is a Yorta Yorta/Wamba Wamba/Mutti Mutti/Boonwurrung woman, who grew up in northwest Victoria—predominantly in Mildura—on the banks of the Murray River. Living and creating in Melbourne for the last three decades, Clarke makes works that explore the customary ceremonies and rituals of her ancestors.
Maree Clarke is a pivotal figure in the reclamation of southeast Australian Aboriginal art practices, reviving elements of Aboriginal culture that were lost—or laying dormant—over the period of colonisation, as well as a leader in nurturing and promoting the diversity of contemporary southeast Aboriginal artists.