PHOTO IDEAS: Sovereignty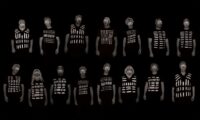 When
24 February 2021
Wednesday, 5-6pm
(AEST)
PHOTO IDEAS is an expanded symposium on photography, truth and power in the post-internet age, presented in partnership with RMIT School of Art and Monash Gallery of Art.
The second session responds to photography's historical function as a tool of colonisation, obscuring and manipulating First Nations people, their stories and images. A panel of Indigenous and non-Indigenous thinkers engage on the topic of 'visual sovereignty', truth-telling and photography's complicated relationship with colonialism. How are contemporary Indigenous artists and photographers using the medium to define their experience and reclaim control over their history and futures? Moderated by Jarra Karalinar Steel, speakers include Peta Clancy, Maree Clarke and Jane Lydon.
PHOTO IDEAS: SOVEREIGNTY is preceded by a keynote by Wemba-Wemba & Gunditjmara artist, curator, writer, lecturer Paola Balla, exploring how these themes resonate in her work.
Free – booking required.
Presented in partnership with RMIT School of Art and Monash Gallery of Art.
Speakers
Peta Clancy (BANGERANG, AU)

Peta Clancy is a Melbourne-based artist who is a descendant of the Bangerang people from south east Australia. She has extensive art school training, including a bachelor degree from RMIT (1992) and a PhD from Monash University (2009). While her practice has incorporated a number of different media, Clancy is primarily a photographer. She has been exhibiting her work since the early 1990s, and has a strong history of residencies and participation in academic conferences. An interest in corporeality runs throughout her work, and she has demonstrated a sustained interest in the physicality of photographic prints. Clancy's recent photographic projects are premised on a depiction of place that are developed through deep listening, created in collaboration with Traditional Custodians. Peta Clancy is represented by Dominik Mersch Gallery in Australia.

Maree Clarke (AU)

Photographer and artist Maree Clarke is a Yorta Yorta/Wamba Wamba/Mutti Mutti/Boonwurrung woman, who grew up in northwest Victoria—predominantly in Mildura—on the banks of the Murray River. Living and creating in Melbourne for the last three decades, Clarke makes works that explore the customary ceremonies and rituals of her ancestors.

Maree Clarke is a pivotal figure in the reclamation of southeast Australian Aboriginal art practices, reviving elements of Aboriginal culture that were lost—or laying dormant—over the period of colonisation, as well as a leader in nurturing and promoting the diversity of contemporary southeast Aboriginal artists.

Jane Lydon

Jane Lydon is the Wesfarmers Chair of Australian History at the University of Western Australia. Her research centres upon Australia's colonial past and its legacies in the present. Her books include The Flash of Recognition: Photography and the emergence of Indigenous rights (NewSouth, 2012), which won the 2013 Queensland Literary Awards' History Book Award, and Calling the Shots: Aboriginal photographies (ed.) (Aboriginal Studies Press, 2014), which brings together Aboriginal and non-Aboriginal scholars to explore the Indigenous meanings of the photographic archive. Her most recent books include Remembering the Myall Creek Massacre (ed.) (NewSouth, 2018) and Visualising Human Rights (ed.) (UWA Publishing, 2018).

Jarra Karalinar Steel (AU)

Jarra Karalinar Steel is a multi-disciplinary artist known for her powerful emu egg engravings, poster art, large scale public installations, Digital and Augmented Reality Art, RAP artwork and commemorative signage. Jarra is of Boon Wurrung, Wemba Wemba, English and Scottish descent. She is First Peoples' Arts Officer at the City of Port Phillip and She has a Master of Arts (Art in Public Space) from RMIT. Jarra is a passionate advocate/consultant for Self-Representation of Victorian First Peoples Art and Culture and making sure it is kept alive and thriving.