PHOTO IDEAS: Doubt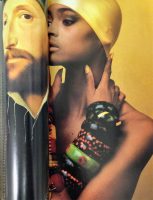 When
2 March 2021
Tuesday, 3-4pm
(AEST)
The correlation between photograph and fact has always been contested, but today the veracity of the photographic image is more complicated than ever. With the addition of fake news and deep fakes, what role does doubt and deceit play? And where does photography go when it is free from the burden of providing evidence? A panel of artists and academics will explore how photography can embrace doubt as a means to create new narratives and reveals truths about how we consume images.
The panel includes artists and educators Shane Hulbert, Kiron Robinson, Daniel Shea and Maija Tammi. It is chaired by Pippa Milne, Senior Curator, Monash Gallery of Art and co-curator of the PHOTO 2021 exhibition Not Standing Still: New Approaches in Documentary Photography.
PHOTO IDEAS: DOUBT is preceded by a keynote by Spanish artist Joan Fontcuberta, exploring how these themes resonate in his work.
Free – booking required.
Presented in partnership with RMIT School of Art and Monash Gallery of Art.
Speakers
Shane Hulbert (AU)

Shane Hulbert is a Melbourne based artist, curator and academic.  His work has been shown nationally and internationally, most notably at the National Gallery of Victoria and the Centre for Contemporary Photography (CCP), both in Melbourne, Australia and the Pingyao International Photography Festival in China. He is currently Associate Dean, Photography, at RMIT University in the School of Art.  He writes on contemporary art and art education, and his photographic practice explores the expression of a collective national Australian identity through distinct and popular iconography that connects place, history and culture.

Pippa Milne (NZ)

Pippa Milne is a writer and curator based in Melbourne. She is the Senior Curator at Monash Gallery of Art, Melbourne and has been working with photography since 2011. She was previously Curator at the Centre for Contemporary Photography, Melbourne and Associate Curator of International Art at Queensland Art Gallery / Gallery of Modern Art, Brisbane. Recent exhibitions Pippa has curated include Bill Henson: The light fades but the gods remain (2019), Architecture Makes Us: Cinematic Visions of Sonia Leber and David Chesworth (2018) (co-curated with Naomi Cass and Made Spencer Castle) and An unorthodox flow of images (co-curated with Naomi Cass) (2017). Pippa is a regular contributor to publications and institutions in Australia and New Zealand and has been a nominator for various prizes including ICP Infinity Award and Prix Pictet.

Kiron Robinson (AU)

Kiron Robinson is an artist who lives and works out of Melbourne. He loves photographs but does not trust them. He uses a number of photographic strategies in different mediums to interrogate the image. His work circulates around a set of ideas that he recognises in the photograph—belief and doubt in the ability to believe except through doubting. Since 2003 Robinson has exhibited his work widely both nationally and internationally. He has held recent solo exhibitions at Sarah Scout Presents and the Centre for Contemporary Photography. He has curated a number of exhibitions questioning the current photographic condition including at West Space and Benalla Art Gallery. His work is held in a number of public and private collections. His favourite gum was Hubba Bubba grape flavour.

Daniel Shea (US)

Based in New York City, artist Daniel Shea's photographs bear witness to his parallel practice as a sculptor. His eye for shape and contour—the graphic elements within a composition—is softened by a painterly feel for texture and colour. His work explores the possibilities of photography, resulting in images that are equal parts intuition and calculation. Recent publications include the monographs 43-35 10th Street, Kodoji Press, and Ex Nihilo, In Other Words Press. He has exhibited at many galleries and museums internationally, including the Foam Fotografiemuseum, Amsterdam, Museum of Contemporary Photography, Chicago, and Vava Gallery, Milan. He has been a resident artist at Light Work, Syracuse, and his commissioned work has appeared in The New Yorker, Double and Fantastic Man.

Maija Tammi (FI)

Maija Tammi (b. 1985) is a Finnish artist and Doctor of Arts, whose photographs and videos examine the liminal areas of disgust and fascination, science and art. She regularly collaborates with scientists and musicians. Tammi's work has been exhibited extensively internationally in Paris, Berlin, Rome, London, New York, Chicago, and Tokyo, and she has four published books. Tammi currently holds the title Artist Professor for the years 2020–2024.