Mark
Smith

(AU)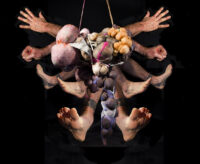 Image: Mark Smith, Ugly/Beautiful, 2015. Represented by Arts Project Australia, Melbourne.   Mark Smith.
Born 1976, Melbourne, Australia
Lives and works Melbourne, Australia
Working across painting, ceramics, mixed media, video and soft sculpture, Mark Smith's primarily figurative works are concerned with how the physicality of the body relates to human nature and the human condition. He considers the body a non-negotiable starting point for existence, using the primitive vessel to explore the truly distinctive characteristics of being human. Within this framework, Smith addresses the experiences and complexities of the individual and of humanity, as well as examines the language of subtle movement. Working from a feeling or emotion rather than a model or image, his artwork has an intrinsic quality that is imbued with a deep sense of character.