Otis Burian
Hodge

(AU)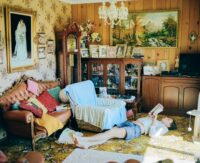 Image: Otis Burian Hodge, Jackson, 2017. Courtesy the artist.
Born 1997, Sydney, Australia
Lives and works Sydney, Australia
Otis Burian Hodge is a photographic artist and gallery curator based on Gadigal land. His practice involves both digital and analogue photography, with an interest in bookmaking. Hodge explores the challenge of archiving specific feelings, memories and localities around him and translating them to a wider audience – sharing a moment with those who don't share in it. Hodge creates work that aims to be identifiable and relatable, yet pushes the audience to imagine beyond its frame and incorporate their own lived experiences.
Since 2017 Hodge has programmed TCS Windows, a non-commercial gallery hosting monthly shows of photography-based work by emerging artists.